If you or someone you know is experiencing a crisis, support and assistance is available through Your Life Iowa by Live Chat, by calling (855) 581-8111, or by texting (855)895-8398. Crisis assistance is also available by dialing 988.
If you or someone you know is thinking about suicide, get help immediately via Suicide & Crisis Lifeline by dialing 988, or via the Crisis Text Line by texting "HOME" to 741741. Both the Suicide & Crisis Lifeline and the Crisis Text Line are free and confidential. You'll be connected to a skilled, trained counselor in your area.
If someone is threatening to harm themselves, do not leave them alone. Call 988 or, if you can do it safely, take them to the nearest emergency room. Try to remain calm and confident to help the individual in crisis remain calm while you get help from others.
Finding Support in Educational Settings

Iowa has mental health professionals that can answer your questions or provide support for your child in educational setting.  You can contact your district's school counselor or you can contact the Iowa Area Education Staff who serve in your district. To contact AEA staff, click on the map.
Iowa's Mental Health Regions

Iowa's Mental Health and Disability Services (MHDS) Regions are the local entity responsible for administering Iowa's community-based, person-centered mental health and disability services system. The MHDS Regions are responsible for:
Providing access to a full array of services including crisis services, inpatient and outpatient mental health services, and daily living supports.
Funding core services for individuals who meet regional eligibility criteria.
Connecting individuals to services and supports.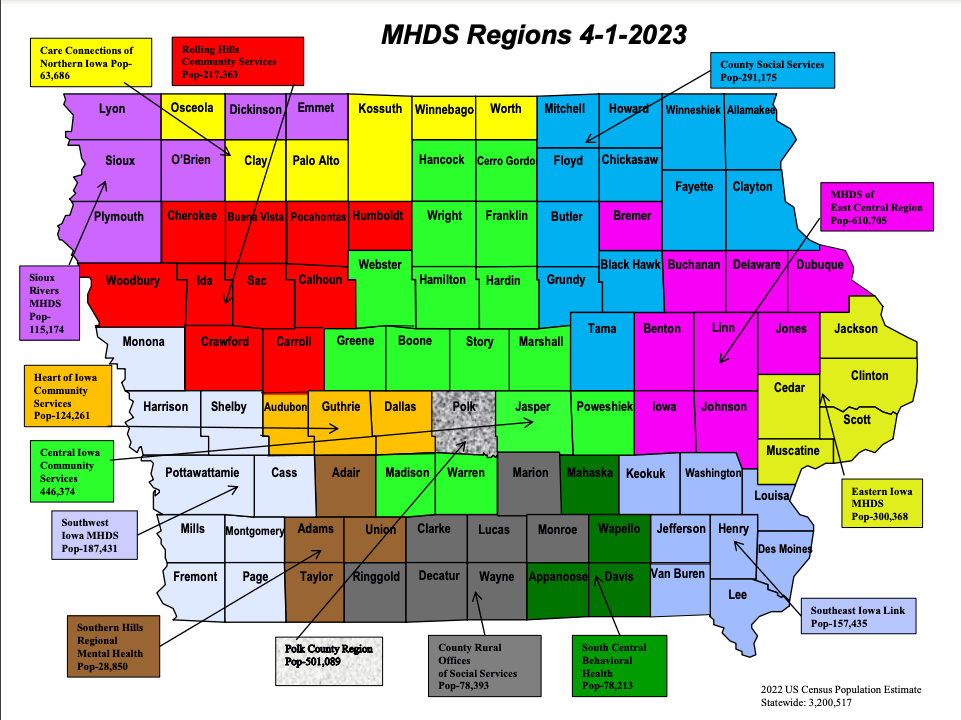 What to expect when seeking mental health support

When people have not experienced meeting with a mental health professional, they can feel intimidated or scared about meeting for the first time.  There are some things you can do to help yourself or your child to feel more comfortable. Click the button to learn more.